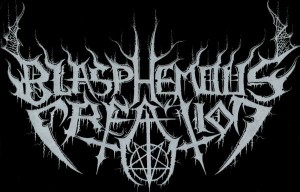 Blasphemous Creation
"The Rise Of Marduk"
2015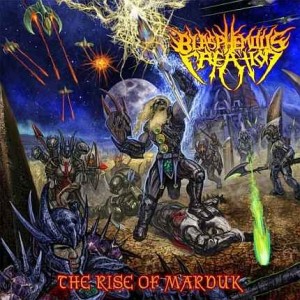 Blasphemous Creation is a heavy thrash band with some great intensity. This is what happens when you mix thrash and black metal together in a good way. Fucking superb drums and guitars here, folks. The vocals are MEAN and fit well on this release.  In some ways I hear a touch of slayer in this music, in the leads especially, but there is MUCH more to this band than that.
Thrashing heavy madness is what this is. If your head does not bang when you listen to this I wouldn't know what to tell you. These guys sound like a band that rehearses quite a bit, and you can tell that in the music. I would recommend this release to fans of bands such as Vektor and Havok, although they have a feel that is much different than those bands….. I hear influences of Morbid Angel, Sepultura, Death, and even Celtic Frost!
The lyrics are all evil all the time, which can never be overdone, in my honest opinion.  After listening to the full album, I feel that the tracks that stand out with this release are ones such as, "Tablets of Destiny", "The Storm God", "Fall of Kingu", and "Age of the Ram". This release is a refreshing take on the realms of Thrash/Black/Death metal.
Tracklist:
1. The Rise Of Marduk
2. The Usurper
3. Tablets Of Destiny
4. Decimation Crusade
5. Serpent Queen
6. The Storm God
7. Conquest Of Opposition
8. Tiamat's Demise
9. Fall Of Kingu
10. Age Of The Ram
https://www.facebook.com/BlasphemousCreationOfficial
Members:
Isaac Wilson – Guitars/Vocals
Joe Amos – Guitars
TJ Laughlin – Bass/Backing Vocals
Evan Richardson – Drums
Rating: 7.5 out of 10
~Cosmic Cornmeal
Blasphemous Creation
"Battle of The Ancients"
2012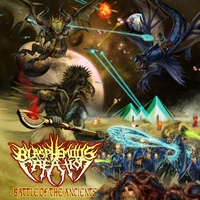 What can be said about Blasphemous Creation? They are by all standards technically competent and adept at spewing forth their brand of Blackened Thrash and with "Battle Of The Ancients" they have unleashed a brutal cacophony of verse that is guaranteed to leave you reeling.. I must personally admit there were no "moments of transcendence" or "prolonged periods of elation" caused by this album per se BUT!!! I would be passing on a grave mis-communication if I said that Nevada's Blasphemous Creation are nothing but top shelf tune smiths who are definite contenders amongst their brethren in the genre. "The Beginning" tells of an Uber race of warriors who battled for the top of the space shit heap long before us humans came about (that's the short version) and each tune builds on the theme until the pain in your head bang worn neck burns like a burnt out fuselage. Riffs are plentiful and precise and solo work is far beyond exceptional. All while being smothered in bile dripping vocals which almost bring you to the belief that killer space fiends might truly be on your ass. By the time "Destroyer of Worlds" or "Nibiru's Wrath" plays through you will see that BC are no fluke but instead the next frontier. Closer "The Final Battle" rages like no tomorrow and leaves you screaming into space for more. The conceptual idea behind this album may escape you and you can still find a solid piece of work here OR for anyone who loves Star Wars and Testament, welcome to paradise.
Tracklist:
1. The Beginning
2. Battle of the Ancients
3. Destroyer of Worlds
4. Centaurian
5. The 12th Planet
6. Sons of Anu
7. The Conqueror
8. Nibiru's Wrath
9. The Return?
10. The Final Battle
https://www.facebook.com/BlasphemousCreationOfficial
Members:
TJ Laughlin – Bass/Backing Vocals
Immolater – Drums
Joe Aemos – Guitars
Issac Wilson – Lead Guitars/Vocals
Rating: 6 out 10
~Chad