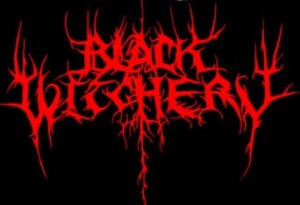 Black Witchery/Conqueror
"Hellstorm Of Evil Vengeance"
2000, Dark Horizon Records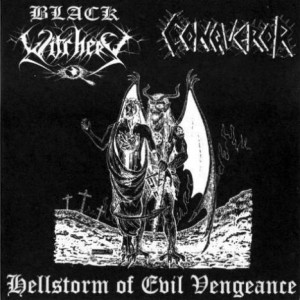 This split CD of Black Witchery and Conqueror is decent, but albeit not a perfect release by any stretch of the imagination. Black Witchery kick off the split with 5 well crafted songs that had my attention span. What I liked about Black Witchery was that their songs are straight forward and to the point. They don't drag on and on. This has no crappy gothic keyboard filler or pretty female vocals. This is pure Black Metal the way it's supposed to be played. I predict some big things to come for this band in the future. "Black Witching Metal" no doubt will become an anthemn for the legions of Black Metal fans all over the world. Conqueror on the other hand are pretty bad. Not only is the production pretty bad, but Conqueror's songs were bland and pretty boring. Conqueror needs to go back, and better craft these songs, because there is not one that remotely stands out. I think this CD could have stood better on it's own if it just had the Black Witchery songs.
Tracklist:
1. Black Witchery – Unholy Vengeance of War
2. Black Witchery – Black Witching Metal
3. Black Witchery – Summoning of Infernal Legions
4. Black Witchery – Into Damnation Eternal
5. Black Witchery – Demonic (Blasphemy Cover)
6. Conqueror – Ross Bay Damnation (Intro) /Chaos Dimination ( Conquer the Enslaver)
7. Conqueror – Hammer of Anti-Christ
8. Conqueror – Domitor Invictus
9. Conqueror – Command for Triumph
http://blackwitchery.bandcamp.com
Members:
-Black Witchery-
Impurath – Bass/Vocals
Vaz – Drums
Tregenda – Guitars
-Conqueror-
Ryan Forster – Guitars
James Read – Vocals/Drums
Harlow MacFarlane – Bass
Rating: For Black Witchery 6 out of 10
Rating: For Conqueror 2 out of 10
~Azazel