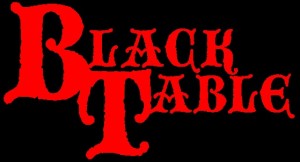 Black Table
"Sentinel"
2012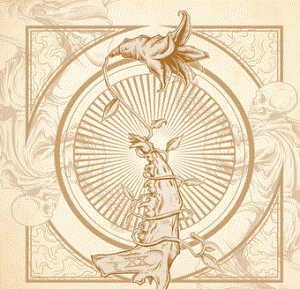 With beautiful artwork illustrated by former bassist Matt Mellon, Black Table (from NJ/NY) released an amazing EP entitled Sentinel. Though it only has 4 tracks, this release is roughly 25 minutes of pure experimentation that broods somewhere between post – hardcore and Black Metal. From start to end you can feel both influences run rampant. Through melodic guitar, and beautiful bass lines, this band hammers with intense melodies.
I had no idea what to expect when I heard the intro for "Heist." It was like an acid trip slowly kicking in, and then taking me on a journey of chaos and beauty. Their third track "To Tear Down" especially jumps between intense drums and artistic riffing that sends you straight into the fields of warfare. This EP is truly diverse and original, and is very easy to fall in love with.
You can stream and buy this EP on 12" and cassette on their bandcamp (blacktable.bandcamp.com.) It is definitely worth a listen. I give this album an 8 out of 10.
Tracklist:
1. Heist
2. Sentinel
3. To Tear Down
4. 1942
https://www.facebook.com/blacktableband
Members:
Mike Kadnar – Drums
Ryan Fleming – Guitars
Mers Sumida – Guitars/Vocals
DJ Scully – Bass
Rating: 8 out of 10
~Tony Marx
Black Table
"Sentinel"
2012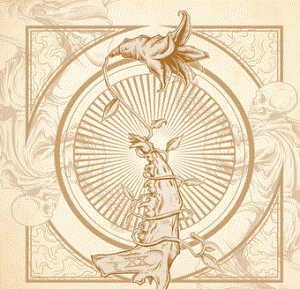 Black Table is an interesting concoction of doom metal and low fidelity raw black metal. This group hails from the United States and their 2012 EP titled "Sentinel" is a combination of raw black metal and thick, emotionally heavy and draining doom metal. The result is a methodical ride though substantial black metal atmosphere along with dark and dismal doom metal elements. This is a fascinating EP that might not be for everyone but shows that Black Table have clever and creative ideas for expanding on the amalgamation of the two different metal genres. Musically, these four songs each have a gloomy tone that remains strong whether the band is going at a fast or slow tempo. Although I said low fidelity, make no mistake; this EP is very well recorded. It has just the right amount of fuzz to complement raw black metal, but still keeps a high standard for musical integrity. The mix is just about perfect; with the bass serving as the loudest, it cuts through and holds everything together. It's certainly the real standout for me. Bass is so often lost in the mix and there to only do what it is supposed to do, only fill the low end. But bass player Matt Mellon really adds a deeper layer to each song through his brilliant performance. He keeps the chaos grounded and really allows these songs to soar. But, that is not to say that there are not brilliant performances all around. There is a lot to absorb in these four songs. Casual metal fans that only came to mosh might not get it, but if you are someone that can truly appreciate doomy black metal as an art form than "Sentinel" is a brilliant EP that really reveals itself as artistic to those willing to put forth the effort and soak it in. There is a lot to like on "Sentinel" and Black Table have only just begun.
Tracklist:
1. Heist
2. Sentinel
3. To Tear Down
4. 1942
https://www.facebook.com/blacktableband
Members:
Mike Kadnar – Drums
Ryan Fleming – Guitars
Mers Sumida – Guitars/Vocals
DJ Scully – Bass
Rating: 8.5 out of 10
~Kris