Black Jade
"The Prophecy of the North"
2013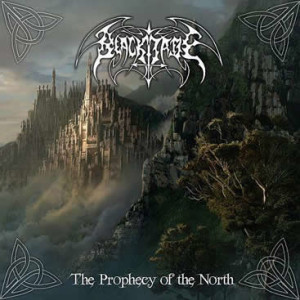 As a Tolkien fan, the track-list immediately piqued my interest. Listening through the album I could heard skilled guitar sounds, with proper black metal riffing, an unconventional song structuring which was welcoming for my ears. I noticed on the third track on how the usage of the bagpipes was not drowning over other instruments unlike other bands and not to shrill either. I was impressed on how the female voice was merged between the shrieks and thin guitars, giving a mystical soundscape on a cold sound. Each track individually is a wondrous piece of its own, and the sections in the tracks connect together seamlessly, making even the long tracks feel anything but boring and they certainly do not seem dragged on. I particularly liked the outro, which is undoubtedly a masterpiece and a perfect conclusion for the release.

The album is recorded in proper black metal fashion, and yet all the instruments sound balanced and audible. All the vocals show a particular dedication in recording and production, with a cavernous sound which does not sacrifice audibility. Overall it sounds amazing and musically haunting. No doubt a must have for fans of Tolkien and also of the band Windir.
The album cover is artistic and mysterious as the band's music. The kind I would love to frame on a wall. I can't place what the image portrays, for the band shows research for its music and I am sure that the same thing goes for the cover.
Will I listen to it again? No doubt, I also think it's one of the finest black metal albums which came out that year.
Favorite track is #5
Tracklist:
1. The White Town
2. The Dark Premonition (The Legacy of Tugorn)
3. Seven Gates, Seven Walls (The Guardsmen Song)
4. The Fall of Gondolin
5. The Last Noldorian Splendor
6. Maedhros's Pain
7. Land of the Deadly Shadows
8. Kingdom of Gold
9. Far Away from Home
https://www.facebook.com/bjswissofficial
Members:
Münggu Beyeler – Bagpipes/Whistle
Andreas Langer – Guitars
Marlon Ruch – Vocals (additional)
Naragarth – Guitar/Bass/Drums/Vocals
Gorgar – Keyboards
Betty – Female Vocals
Mark – Bagpipes/Backing vocals
Rating: 8.5 out of 10
~Carnivean