Autumn Tears
"Love Poems For Dying Children Act 3: Winter And The Broken Angel"
2000, Dark Symphonies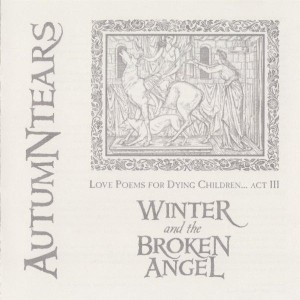 I've heard of Autum Tears for a few years, but never heard their music untill last year when I saw their Absolution EP, and decided to pick it up, and check it out. I thought it was really good, but I wanted to hear a full length to see if they can keep me entertained for more than 3 songs, and it worked. The influences of Dead Can Dance, Arcana, and Aghast is very apparent. I do not say this as a bad thing, because Autumn Tears are original, and are doing their own thing. The music is very emotional, and the lyrics really reflect with the music, giving it that feeling of lonliness and despair. The vocals of Erika and Jennifer are really beautiful, and are sung with such emotion, and passion. I recommend this album to be listened if you're depressed, something to relax to, or sit with that special someone in your life.
Tracklist:
1. The Grand Celebration
2. The MirrorStone
3. The Never
4. The Broken Doll
5. Winter's Warning: I. Prologue
6. Winter's Warning: II. Spring Requiem
7. Winter's Warning: III. Summer Requiem
8. Winter's Warning: IV. Autumn Requiem
9. Winter's Warning: V. Winter Requiem
10. Winter's Warning: VI. Epilogue
11. The Passion and the Fury
12. The Widowtree
13. The Bird Without Wings
14. The Eyes of Deception
https://myspace.com/ashadowpaintedwhite
Members:
Ted Tringo – Piano/Keyboards/Vocals
Erika Swinnich – Vocals/Keyboards
Jennifer LeeAnna – Vocals/Keyboards
Rating: 8 out of 10
~Azazel