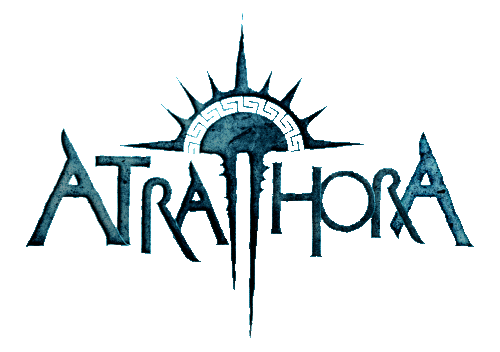 Summon: How did the band get started?
Alextos: Greetings to you, Summon, and to all readers of Blackened Horde Zine! The story of Atra Hora began in 2006 when Yanis 'Shaxu' Georgiadi and Ashkael met and decided to create a band to realize some Black Metal stuff, accumulated by Shaxu at that moment. The complete line-up was gathered quickly and the band started preparing for gigs.
Summon: What kind of music do you play?
Alextos: At first the style could be described as Raw Black Metal, but the line-up changed almost completely by the end of 2007 (only two members of first line-up remained) and I replaced Ashkael on the post of front-man. The style started changing to Atmospheric Blackened Death Metal deeply influenced by Greek and Middle-Eastern ethnics.
Summon: How has the band response been?
Alextos: Generally our music was accepted favorably both in our country and abroad. Our debut full-length album titled 'Lost in the Depths' has received a lot of positive feedbacks among critics. But those who had waited some raw stuff from Atra Hora were disappointed.
Summon: Where did the band name come from?
Alextos: 'Atra Hora' (Latin) means 'Black Hour'. This title was offered by the member of the band with which we shared the rehearsal room. We accepted it as it most closely suited to describe our perception of the world and the modern epoch.
Summon: Introduce the band members
Alextos: As I said before, Shaxu is the founder of the band; he is responsible for guitar, clean and harsh vocals and some additional instruments. Genrih is a drummer since the first line-up. I play bass and sing lead vocals (screams and growls). Two new musicians joined the band in 2010: Neit-Shu (keyboards) и Nicolaos 'Ijhi' Stryukov (guitar).
Summon: Who writes the music? Lyrics?
Alextos: Almost all of the music is written by Shaxu while lyrics are mainly mine since the band's foundation.
Summon: And where do the lyric ideas come from?
Alextos: The only source of ideas for lyrics is surrounding reality. Each song reflects our views, experience and our life position. We live in an epoch of moral decline when self-destruction of mankind has reached a peak. We emphasize it to coerce a listener into thinking about it and understanding it… to coerce him into reaching some personal growth.
Summon: What is your view in Satanism and Occultism?
Alextos: Satanism and Occultism are so spread nowadays because of perversion of Christianity and other religions and doctrines… and perhaps humanity has perverted all of them. Today's form of each doctrine eventually leads to a dead-end. That is why to identify ourselves as followers of any doctrine means for us to loss an opportunity of development. We believe in unity of the Universe and necessity of constant growth.
Summon: How many albums/Cd's have you released?
Alextos: We had released our first full-length 'Lost in the Depths' in 2010 on Darknagar Records, a label founded by me and my colleagues to support the scene of the Northern Caucasus. At the moment we are working on the next album titled 'Via Combusta', which will be released soon.
Summon: Tell me about some the songs on the latest CD?
Alextos: We tried to use some new instruments during the recordings of Via Combusta, such as Persian santur (hammered dulcimer) and some other instruments of Middle-East. Στύξ and Εντροπία became a result of this experience, these tracks were recorded without using guitars. Three songs on the album are performed in Greek language.
Summon: Do you have any side projects?
Alextos: Shaxu and I are also involved in Depressive Dark Metal project Tristesse Aeternum. We have already recorded the album and it also will be available on CD soon.
Summon: Who are some of your musical influences?
Alextos: We all listen to various genres and artists. First of all I'm influenced by Morbid Angel, Rotting Christ, Horrified, Emperor, Orphaned Land and many bands of Death Doom and Funeral Doom Metal. Speaking about non-metal bands I should say about Dead Can Dance, Daemonia Nymphe, King Crimson and Porcupine Tree.
Summon: What is the band like when you play live?
Alextos: Hmm…like we are in our everyday life, hehe.
Summon: Do you have any type of stage props or special clothing?
Alextos: No, we do not differentiate art and life at all. We come on the stage in the same clothes we use in usual situations… of course if it looks appropriate.
Summon: What was the best band you played with?
Alextos: We have shared the stage with many representatives of South-Russian scene, such as PerunЪ, Colder than Moon, Sacratus and others. Perhaps Sacratus has always sounded live much powerfully and expressive.
Summon: Have you guys ever played in another country?
Alextos: Not yet, but we are planning to play abroad a couple of shows supporting 'Via Combusta' the next year.
Summon: How big of crowd shows up at shows usually?
Alextos: We have not participated in large festivals with a numerous audience, but we gather about 400-600 listeners when we play in our hometown. But we've played several times for thin audience.
Summon: How is the crowd response when you play?
Alextos: Again, favorably… some people simply listen while others bang their heads and slam as possessed, hehe!
Summon: What do you think of the US Metal scene?
Alextos: The US underground is unique! US bands are not similar to European even now, when it becomes difficult to track influences. There're many great bands: first of all Sylvan Realm (ex-Reverie), the unique Eclectic Dark Metal project. Also I like Dimentianon, Sectioned (though this band is not fully American), Aurora Borealis and Agalloch of course. Also many amazing artist in Death Doom and Funeral Doom Metal genre came from the United States: Dusk, Aphotic, Thorns of the Carrion, Ceremonium, Evoken and many others.
Summon: What do you think of the Oversea scenes?
Alextos: To be honest I like Greek, Czech, US, Mexican, Middle-Eastern and Asian scene best of all. It is particularly pleased that there're outstanding projects in such countries as Iran (Arsames), Bahrain (Narjahanam), Lebanon (Kaoteon… their first demo is perfect!!!), Egypt (Odious, Scarab) and other places, where metal scene was almost nonexistent not long ago.
Summon: What are some of new favorite black metal bands?
Alextos: My favorites are Dawn of Division, Ad Astra, Gospel of Grief and Deus Infestus from Greece, Kernaoth from France, Nevaloth from Slovakia, Mïsogi from Japan.
Summon: When do you guys plan on writing any new material?
Alextos: We will start recording of the 3rd album after release of Via Combusta. The songs are already composed and they are something similar to the previous album and differ from anything we had done
before.
Summon: What does the future hold for the band??
Alextos: Too much work! We try to out do ourselves with each new album or live performance. It takes much efforts and dedication, but striving for excellence is the main motivator for us!
Contact them at:
http://www.myspace.com/atrahora