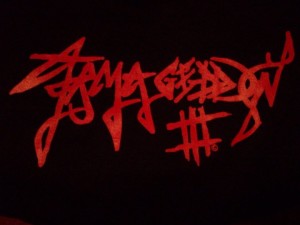 Armageddon III is a Metal / Experimental Metal band consisting of Bass, Drums, and Samples with all three band members as Vocalist.
Founded in 2009 they recorded first Demo at their home studio E3 Productions in Palatka Florida.

In 2010 recorded self titled EP "ARMAGEDDON III" with Producer Tim Lau at The Porch Studio in Orlando Florida, Released in 2011. http://www.facebook.com/pages/Laud-Productions-The-Porch-Studio/328663485677
In mid 2011 recorded "THE WARNING" EP with Producer Matt Dalton at 37 Studios in Rochester Hills Michigan, Released in 2012. http://www.facebook.com/37studios

Armageddon III has performed shows across Florida in Jacksonville, Gainesville, Palatka, Orlando, Tampa, Lakeland, Bartow, Tarpon Springs, Ocala, and more…….

State to State U.S. short run Tour coming October 2012, Dates to be Announced soon….

Performed on the "SLAVE TO THE METAL MUSIC FEST" hosted by MISTRESS JULIYA of Fuse TV Performed on the "GET YOUR ROCK ON MUSIC FEST"

http://www.armageddonthree.com/
http://www.facebook.com/armageddonthreebandpage
http://twitter.com/armageddonthree
http://www.reverbnation.com/armageddonthree
http://www.myspace.com/armageddonthree