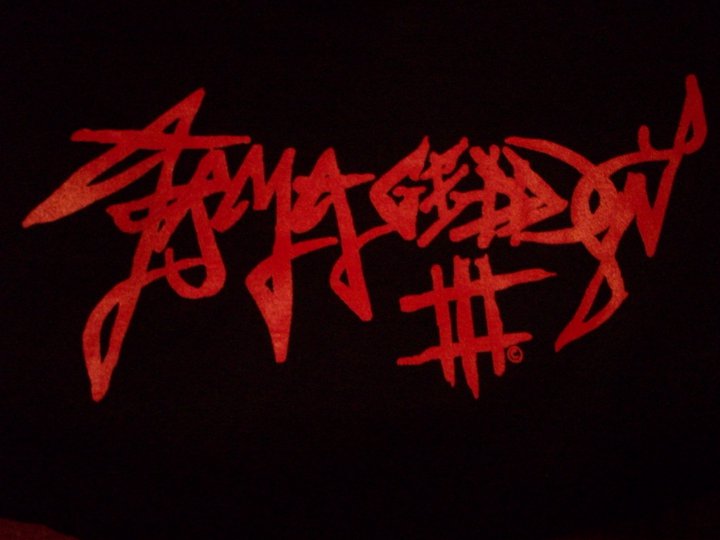 Armageddon III
"EP & The Warning"
2012
Armageddon III, from Palatka, Florida, is a three-piece experimental metal band with no guitarist!  They have a newer metal flare ala a simplified Slipknot (more in the vocals) and Coal Chamber (the bass) with some cleaner moments reminding me of a "diet" Lacuna Coil.  Both the self-titled E.P. and their CD "The Warning" are pretty close in musical content.  The Warning, however, shows the band tightening their already interesting sound and a better production.  Since the similarities in end products, I felt it safe to review them together.
Tracklist for EP:
1. The Devil Has Come Down Upon You
2. Nothing Can Save You
3. Undertow
Tracklist for The Warning:
1.My Name is Legion
2. Inner Beauty Devoured
3. Be Prepared
4. I Feel Your Pain
5. Face Of Addiction
6. This Is The End
http://www.armageddonthree.com
https://www.facebook.com/armageddonthreebandpage
Members:
Dana Woodard – Bass/Vocals
Neil Woodard – Drums/Vocals
Andy Bobbit – Vocals/Samples
Rating: E.P.  6.5 out of 10 The Warning 7 out of 10
~Andrew
Armageddon III
"EP & The Warning"
2012
Armageddon III is a unique band who puts there spin on some of the newer metal sounds. The three vocal mix bounces me from Evanescence to Slipknot as does some of the music phrasing. The bass keeps a pattern to follow while samples are thrown in to give the music more character. The drummer is the driving force in this band going full force in both the Self Titled EP and there first full length release The Warning. He is a hard hitter who makes sure you are paying attention. This band has great potential and is already making its mark in Florida.
Tracklist for EP:
1. The Devil Has Come Down Upon You
2. Nothing Can Save You
3. Undertow
Tracklist for The Warning:
1.My Name is Legion
2. Inner Beauty Devoured
3. Be Prepared
4. I Feel Your Pain
5. Face Of Addiction
6. This Is The End
http://www.armageddonthree.com
https://www.facebook.com/armageddonthreebandpage
Members:
Dana Woodard – Bass/Vocals
Neil Woodard – Drums/Vocals
Andy Bobbit – Vocals/Samples
Rating: EP 6 out of 10 The Warning 7 out of 10
~Sandra