Archangel
"Archangel"
2015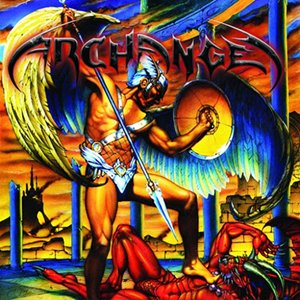 Its time once again to don the gauntlets and leathers and go forth into battle as its Power Metal time again ! Judging off the hand drawn front cover I knew it was going to be either super epic or super cheesy…I was wrong on both counts…Anyway..…
This time our warriors are Archangel , hailing from Tampa , Florida. They do a formidable job of blending Thrash sensibilities with  a modern Power Metal aesthetic with a nod to the NWOBHM and it works surprisingly well ! Think of this as a Power Metal version of  a more easy going  Annihilator with keyboards with all the killer guitar work and you are pretty much almost there. The keyboards are tastefully used and don't stifle the great guitar work that is going on.
Across the 12 tracks there is plenty on offer in way of keeping things interesting and the riffs keep on rolling over you wave after wave.
The only one niggling aspect of the album is the high end power metal screams, they do definitely belong in there but they seem a little too forced, the worst offender being at the 41 second mark of the song " Archangel "  . The mid range vocals/falsetto and the odd growl in there works perfectly with the songs on the album. I did enjoy the album on the whole, stand out tracks being " Eternal Sleep " , " To Hell and Back " , " Second Corruption "
Its a good album and well worth checking out, I'm hoping that the next album proper can really push the ante just that little bit further and with the high pitched screams gone they'd be doing themselves a favor unless they are done ala Sean Peck from the mighty Cage.
Tracklist:
1. Intro
2. Divine Descent
3. Eternal Sleep
4. Wings of Death
5. To Hell and Back
6. Bohemian Travesty
7. Interlude
8. Archangel
9. Caught Between Worlds
10. Second Corruption
11. Claws of Ba'al
12. Facing the Demon
https://www.facebook.com/ArchangelMusic
https://www.reverbnation.com/ArchangelTampa
Members:
Mike Brady – Vocals (has since left the band)
John Boyd – Bass
Tom Klinesmith – Drums
Mario Morano – Guitars
George Horhay – Guitars
Steve Jurbala – Keyboards
Rating: 7 out of 10 
~Death Metal Andy