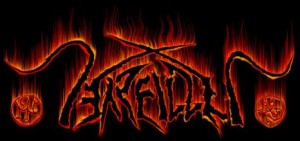 ARALLU – GENIEWAR
NEW STUDIO ALBUM – CD OUT NOW for your Review and Interview
GENIEWAR is the 5th studio album of the Mesopotamian black metal band from Jerusalem.
After 4 studio albums "The War On The Wailing Wall" (1999) "Satanic War In Jerusalem" (2001) "The Demon From The Ancient World" (2005) and "Desert Battles" (2009) the demons from Jerusalem are about to unleash again with a massive album.

ARALLU played shows in Israel with acts such as Behemoth (pol) Mayhem (nor) Enslaved (nor) Marduk (sw) Tribulation (sw) and more. The band did several European tours in Germany/Switzerland /Hungary and Austria. Play in Turkey for a metal fest.
The new studio album GENIEWAR, was produced and mixed together with Dory Bar Or from the band ETERNAL GRAY and mastered in Los Angeles by Maor Appelbaum (Mayhem, Rob Halford, Therion, Ynwie Malmsteen and others).
Track List:
1  Evil Finest
2  From The Desert To The Ice
3  Bloodshed Around
4  PowerSlave (Iron Maiden cover)
5  Coronation
6  Metal Troops 666
7  Givat HaTachmoshet
8  Underworld Resistance
9  Tzook Eitan
10  Hayalim Almonim
GENIEWAR is by no doubt the best produced album Arallu ever recorded. The album features full set of Arabic Middle Eastern instruments as: saz, oud, kanoon, darbuka, kongo toms and many other traditional instruments used during the recording and made the album an ensemble of war metal anthems from the gates of Jerusalem.

Although Arallu is not a political band, the band's mastermind and founder Moti "Butchered" Daniel lives in one of the most dangerous areas of Jerusalem, the (un)holy city, where bloodshed is a usual thing to witness. The tragic reality found a place within the songs, and few of the album tracks as "Hayalim Almonim" and "Tzook Eitan" describe the situation, yet glorify the ones who never surrendered  to terror and had the courage to resist fundamentalism.
The album also contains a unique cover version of the classic "Powerslave" by IRON MAIDEN, as Arallu took the song to a completely new direction and with Arabic elements converted Maiden's classic song to a Middle Eastern sounding tune.
www.facebook.com/Arallu666
"FROM THE GATES OF JERUSALEM TO THE GATES OF HELL"
ARALLU
Et Hazamir 17/5
Malle Adumim
ISRAHELL