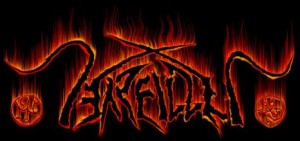 Summon: How did the band get started?
Butchered: Arallu was founded in 1997 in Jerusalem as my solo project. We had a very small black metal scene in Israel at that time, and I was looking for the most extreme sound I could get. The Bloodshed in the streets of Jerusalem, inspired me and made me angry about the stupid war between religions. I remember thinking to myself, why God hates the human race and makes us kill our own kind? So it inspired me to express these feelings, with the most powerful and heavy black metal sound I could get, through Arallu.
Summon: What kind of music do you play?
Butchered: Arallu is a mix of old school thrash metal and black metal, like Venom, old Slayer, Celtic Frost and Bathory, with middle Eastern elements and Arabic music. We call it Mesopotamian Black Metal".
Summon: How has the fan response been?
Butchered: When the first album came out (The War on the Wailing Wall), people were shocked. It was so unusual and uncompromising, with the mixture of fast and heavy beats with the Middle Eastern atmosphere. Even Today when people already heard everything, it's still, we believe, unique in it's way.
Summon: Where did the band name come from?
Butchered: In Mesopotamian mythology "Arallu" is the underworld kingdom ruled by the goddess Ereshkigal and the god Nergal where the dead are judged.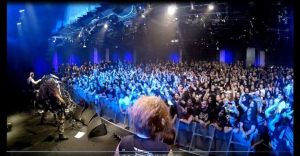 Summon: Introduce the band members and what they do in the band
Kassimov: The lineup today is:
Butchered -bass and vocals
Gal "Pixel"- guitars
Omri Yagen – guitars
A. Kassimov – drums and percussion
Summon: Who writes the music? Lyrics?
Butchered: I usually write lyrics and riffs, then I'll bring it to the rehearsal room and we would start working, editing and grinding the tools until we're satisfied.
Summon: And where do the lyric ideas come from?
Butchered: Arallu's main concept over the years and to this day, is about the ancient Mesopotamian culture and the mystic days over at the Middle East. On the other side, it's also about our daily life in Israel, and the widespread bloodshed all over the Middle East such as in Syria, Iran, Iraq, Egypt, and unfortunately many more. Mix it together with the almost 2,000 year old war and religious fight in Jerusalem, still very alive and above surface today, and you got the whole Arallu concept.
Summon: What is your view in Satanism and Occultism?
Butchered: I never believed in God, I never liked what God represents, and I personally hate the main idea of religions. I think religions are one of the main problems of the human race. That's the reason of the wars all over the globe and of course here in Jerusalem.
We believe that humans can achieve good by themselves and by living together and cooperate without religions and god to scare them.
Summon: How many albums/CD's have you released?
Kassimov: " The War on the wailing wall" 1999
"Satanic War In Jerusalem" 2002
"The demon from the ancient world" 2005
"Desert Battles " 2009"
Geniewar" 2015
We Also released 2 Live DVD's in 2003 and 2010.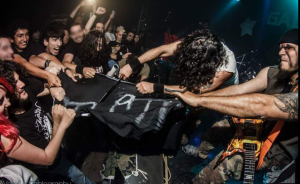 Summon: Tell me about some the songs on the latest CD?
Butchered: The main concept of "Geniewar" is about the wars in Israel from 1948 until today.
"From The Desert To The Ice" is an exception, because it's about the magic of Jerusalem and the special atmosphere. "Metal Troops" is about the terror attacks against the British and the Jews in 1948. Unfortunately, our history is full of bloodshed, and that's what inspires us.
Summon: Do you have any side projects?
Butchered: I personally have no other projects. Gal Pixel plays guitar for a death metal band called Lehavoth, Omri & Kassimov have an alternative rock band called Fixed Stars, and in addition, Kassimov Plays many other acts as session drummer.
Summon: Who are some of your musical influences?
Kassimov: Most of our influences are the old school black, death and thrash metal. Bands like Venom, Marduk, old Metallica, Slayer, Death, Cradle of Filth, Mayhem, Bathory, King Diamond etc. with those influences we have the traditional Arabic and Mediterranean music. and in the last two albums we even combined some ethnic musical instruments & percussion.
Summon: Which current bands?
Butchered: Right now I'm really hooked on the new Album of Marduk, I think they've done a great job with "Frontschwein". Of course there's Nile, Which have the sickest drummer I've heard in terms of speed and force, Behemoth, Tool, and many others who don't necessarily play the most extreme metal. Porcupine tree, Acid Bath, Dream Theater and A Perfect Circle are only a short list.
Summon: What is the band like when you play live?
Kassimov: I believe that showmanship is as important as musicianship and accuracy. It's just so boring when you see a band that might have great music, but does a lousy show. Of course it's very important to be tight and accurate, but when we play live, we always try to take things to a higher level and give the crowd something new and exciting. There's the "Barbed wire on the mic stand", "bullet chain on the bass drum", "the random dude in a mask with a whip goes up on stage and whips at the crowd", once Butchered got on stage with an enormous snake around his neck and we did a whole song with it! It was a lot of fun but many fans who are afraid of snakes dearly asked us not to do it so it was a one time thing. In addition to all these, we have the usual army cloths and war paint that we do every show.
Summon: Have you guys ever played in another country?
Butchered: We toured many countries in Europe, such as Germany, Switzerland, Austria and Hungary. Last March (2015) we played a metal festival in Canakkale, Turkey. We Played there with bands from many Muslim countries such as Lebanon, Iran & Saudi Arabia. It was a great experience, and proved us that metal and music brings people together. We're yet to play in the Americas, and we'd love that very much.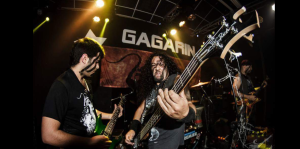 Summon: How big of crowd shows up at shows usually?
Butchered: We usually range from 100 at the small venues, to 600-800 people at the big ones. Of course we sometimes have less audience than we expect, but we still always give the best and sickest show, giving our heart and soul for the music and the crowd, even if the place isn't full.
Summon: How is the crowd response when you play?
Butchered: Because we always try to bring something new when we play live, and the unique sound we try to bring to the black metal scene, we often make the people around notice us. On the other end, the style we play is very extreme and not everyone can endure a full time show.
Summon: What do you think of the US Black Metal/Death metal scene?
Butchered: Wow, You have a great death metal scene there. I really love the music of Death, Deicide, Absu, Immolation, Macabre, Morbid Angel, Nile, Terrorizer, Suffocation and many more. We really hope to share the stage some day with the bands that still plays together.
Summon: When do you guys plan on writing any new material?
Butchered: We released our new album Geniewar just half a year ago, so right now we want to perform and play this album all we can. We've been thinking to start writing materials for the 6th album in the beginning of 2016.
Summon: What does the future hold for the band?
Butchered: Right now I think we're the best performing and creative lineup Arallu's ever been, so I'm guessing that we'll be making a lot more music and performances, in Israel, Europe, and hopefully even overseas.
Contact them at:
https://www.facebook.com/ARALLU666
https://myspace.com/arallushell
https://www.youtube.com/user/ARALLU666
ARALLU
Et Hazamir 17/5
Malle Adumim
ISRAHELL