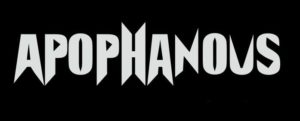 Summon: How did the band get started?
Vitor: We started in 2015 in São Paulo – Brazil.
Summon: What kind of music do you play?
Vitor: Progressive Thrash Metal with some elements of Death Metal and other genres.
Summon: How has the fan response been?
Vitor: It was a good response. In the beginning, we were worried of the fans reactions because of all the experimentation's and different kind of elements that we use on our songs.
Summon: Where did the band name come from?
Vitor: Came from a psychology noun "apophenia" which is "The perception of or belief in connectedness among unrelated phenomena.". It gives the dark tone that we need for the band's name.
Summon: Introduce the band members and what they do in the band.
Vitor: I (Vitor) do the vocals. Alvaro Albuq takes the bass, Fabio Trevisan on the Drums and Tiago Lima on the guitars.
Summon: Who writes the music? Lyrics?
Vitor: It's a collaborative process between all band members. I (Vitor) usually do most of the lyrics but every member gives your collaboration.
Summon: And where do the lyric ideas come from?
Vitor: Our lyrics are about the dark side of human mind. We talk about psychological conflicts, psychopathy, depression, nihilism, schizophrenia, etc. Some ideas came from movies and real facts such as Serial Killers cases.
Summon: How many albums/CD's have you released?
Vitor: One EP digitally released on the most popular streaming services (Spotify, iTunes, Deezer, Apple Music, etc) and its entitled "Obliteration Has Come".
Summon: Tell me about some the songs on the latest CD?
Vitor: Obliteration Has Come is a EP with 4 songs. It was a great experimentation for us and you can hear many different elements and influences across the tracks. "Origins of Violence" (The opening track) has some Thrash Metal feeling aside of "Bright Evil Eyes" (track no 2) which explores more Progressive elements with harsh and clean vocals. "Like an Angel" (track no 3) travels between Death, Thrash and Progressive Metal genres and "Death Drive" (track no 4) finishes with a mix of Thrash Metal with some tribal and Brazilian elements. Death Drive was also released on Lyric Video available on Youtube!
Summon: Do you have any side projects?
Vitor: Tiago Lima (guitars) have an instrumental side project and is recording his album to be released next year.
Summon: Who are some of your musical influences?
Vitor: Technical Death Metal, Thrash, Death and Progressive Metal are most of our influences.
Summon: Which current bands?
Vitor: Nevermore, Pantera, Machine Head, Lamb of God, Gojira, Persefone and the list goes on!
Summon: What is the band like when you play live?
Vitor: After the EP release, we've added more extreme influences to our music and this reflected on the live performance. Our songs are played in a more brutal way and new songs carries more extreme influences.
Summon: Have you guys ever played in another country?
Vitor: Not yet. But we're looking forward for it!
Summon: How big of crowd shows up at shows usually?
Vitor: We usually play on small underground clubs and pubs here in Brazil and the crowd is enough for the place. It's important to note that the Brazilian headbangers are the most extreme fans ever and every show is always insane!
Summon: How is the crowd response when you play?
Vitor: We received a lot of valuable feedback from the crowd and because of our variety of styles we reached different fans. The response was always very good.
Summon: What do you think of the US Black Metal/Death Metal scene?
Vitor: We like a lot of technical death metal bands from US such as The Faceless, Fallujah and Rings of Saturn. About Black Metal scene I (Vitor – Vocalist) miss Averse Sefira one of the best USBM bands IMO.
Summon: What do you think of the Overseas scenes?
Vitor: There are a lot of great bands coming from other countries and for many unusual places far from the big metal cradles like US and Europe. Here in Brazil we have a lot of good bands and some legendary ones like Vulcano, Sarcofago and Sepultura!
Summon: What are some of new favorite black metal/death metal bands?
Vitor: I personally (Vitor – Vocalist) am a huge fan of black/death metal bands. Currently one of my favorites is Batushka from Poland.
Summon: When do you guys plan on writing any new material?
Vitor: We are currently composing new songs for our first full length. We have some music ready for the new record and we are playing some of these new songs live such as "Born With The Evil One" which is a new song based on Ted Bundy's case.
Summon: What does the future hold for the band??
Vitor: New records, world tour and world domination!
Thanks for the interview and we like to invite everyone to stay tuned on our facebook page!
Contact them at:
https://www.facebook.com/apophanous/
https://apophanous.bandcamp.com/releases
https://www.youtube.com/channel/UCWxvtdZS5rw1a56PvfTsHlQ
https://open.spotify.com/artist/62IKjJLYgazvuZ2cZl1vSM
http://tnb.art.br/rede/apophanous