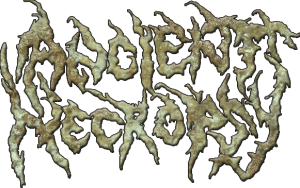 Ancient Necropsy Biography:
*Ancient necropsy was born in 1998 in Medellin – Colombia, South America.
*In 2001 a recording gave birth "demonstration of madness and hate" (100 demo copies were spread, calling the attention of many people inside the Colombian scene. After that, ancient necropsy begins constant gigs inside Colombia, playing together the best brutal death metal bands from Colombia.
*In 2003 signs with two Record labels at the same time. "nice to eat you records" (CZ Republic) and mutilated records, to release the debut album "self titled". This album won reputation inside the brutal scene of the world. Taking good reviews and taking new brutal fans from everywhere. this album was sold out in just 6 months. should be re- released again.
*On May of 2004. The band makes the first international gig. In south America. Playing in most than 26 shows in 4 countries, destroying fields, and leaving the fans thirsty of brutality. Then. The band returns to Colombia to record a new album album.
*In November of 2004 the label from new York (USA), goregiastic records released the album Deformed king's mummification. Spreading this for the whole world, wining a big reputation of the most brutal scenes of the world. This Albums Were spreaded by the most important metal catalogs of the whole planet like century media records , relapse records , morbid records, Displeased Records, Uniqueleader Records and between another hundreds of killer labels and important distributors. (leaving the album sold out once again)
*In 2007 the band recorded the album apocalyptic empire, and was released by mutilated records in CZ Republic (Europe). And was recorded a killer cover from mortician (a compilation of brutal gore bands around the world) named a mortician tribute. Released in Mexico by alarm records (American line productions) . (this album sold out too)
*In 2010 is recorded the official video clips "ghost of death valley" and the epitaph of the phoenix arising
*In 2011 is recorded the album "sanctuary beyond the infinite" Released by the CZ Republic label "nice to eat you records" and is recorded the video clip the gatekeeper of the universe.
*In 2012 a new record is coming. 5 new songs an the demo "demonstration of madness and hate will be re-released again. sick music. full of technique ,Feeling and Brutality.
*Currently we are working to get more gigs and share brutality with all our fans!