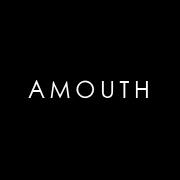 Summon: How did the band get started? 
Gabriele: Hi we are AMOUTH from Arezzo, Italy. The project was born about two years ago, as an evolution of different musical project. We play together, except the guitarist Danilo, from 10 years, so we are first of all big friends. Before Amouth project we played for most grunge and post rock, we made an album and some demos, but when the old guitarist Giacomo left the band, we decided to make a new beginning with the other guitarist Danilo. So we discarded all our songs and started again to write new materials, but with a different sound, more heavier and lower. we spent 2 years without playing live, closed in our studio writing new stuff.
Summon: What kind of music do you play? 
Danilo: We actually play post metal – ambient, someone said "atmospherical sludge", anyway stuff like that, we really can't define our music in a right way. Our sound is characterized by heavy and huge sounds, dropped chords, big riffs in alternating ambient interlude and instrumental parts.
Summon: How has the fan response been? 
Luca: The response is very good! if you think that all the work is a self production (no label, no booking, no promotion) we reach in a couple of weeks about 300 downloads of our album, and more than 2000 plays!
Summon: Where did the band name come from?
Tommaso: We were looking for a short name, but at the same time a good name. We wrote a long list of name and Amouth was the best, but there's no meaning behind! just sounds good!
Summon: Introduce the band members and what they do in the band.
Luca: I play drums, Tommaso plays bass and synth, Danilo plays guitar and Gabriele plays guitar and he's also the singer.
Summon: Who writes the music? Lyrics?
Gabriele: The music is written all together when we play in our studio. sometime I start whit a riff sometimes the bass, and then the other follow the sound. All the lyrics are part of a "diary" where I write thoughts, images and descriptions; words and phrases are combined together in a sort of  unconscious process, using "cut up" technique, generating a particular meaning and atmosphere in each songs, giving to the album an interpretable sense. The unconscious thoughts that pervade the album, are a summary of what really characterized our generation, a generation without certainties, living in the midst of a crisis of any political, religious and cultural system. So all the lyrics on "Awaken" are a constatation to inability of change in this era.
Summon: What is your view in Satanism and Occultism?
Danilo: We don't  believe in that things.
Summon: How many albums/CD's have you released?
Tommaso: Only this one "AWAKEN".
Summon: Tell me about some the songs on the latest CD?
Tommaso: The album is structured like a concept album even if it isn't a concept album. We put in this album heavy and long tracks alternated with intro and ambient stuff like the tracks "Il beige" and "Untold".
Summon: Do you have any side projects?
Danilo: I play bass in an other band from Arezzo, called "Temperature" we play post-rock -grunge.
Summon: Who are some of your musical influences?
Gabriele: Everyone of us listen different kind of music, but for most we listen post metal, metal, ambient – drone stuff and sludge.
Summon: Which current bands? 
Luca: Absolutely Cult of Luna, Isis, Pelican, Neurosis.
Summon: What is the band like when you play live? 
Tommaso: Our gigs are totally black and white, we play with 4 neon lights behind every member, no flashing lights or colored spot lights. This create a beautiful aesthetic that we reproduce even on the artwork and graphics. We play the full album at our shows, starting with the big intro "il neige"; we make the same track list every time because all the songs have a sense if played in this row, like you can listen in the album "Awaken".
Summon: Have you guys ever played in another country?
Luca: Not yet, we hope to play around Europe next autumn and winter.
Summon: How big of crowd shows up at shows usually?
Danilo: Not big crowd, less than 100 people.
Summon: How is the crowd response when you play?
Danilo: People are very quiet when we play, there isn't movement under the stage, everyone is very focused on our music just listening in front of us.
Summon: When do you guys plan on writing any new material?
Gabriele: We plan to start again writing new stuff at the end of may, and maybe make a vinyl version of some new songs in the next months.
Summon: What does the future hold for the band??
Gabriele: We hope to find a label very soon but first of all play as much as we can after this summer.
thank you!
Contact them at:
https://www.facebook.com/amouthband