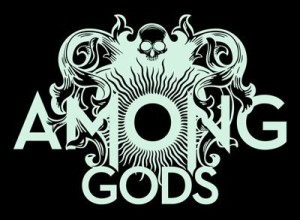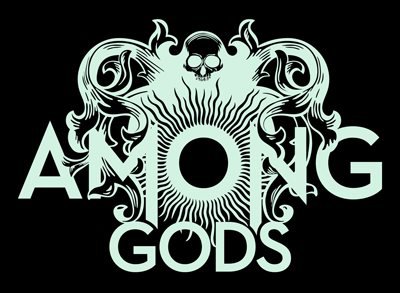 Summon: How did the band get started?   
Kenneth: My intention with Among Gods was to form a studio band but all of a sudden we were a full line up band which wanted to both record and play live, so there was never any doubt that Among Gods should be a band and not just a side project in the studio.
Summon: What kind of music do you play? 
Lars: Death/Doom
Summon: How has the fan response been? 
Lars: It's been good, considering that AG is a pretty new outfit. Don't have a lot of fans but we have received positive feedback from those who have noticed us.
Summon: Where did the band name come from?
Kenneth: The band name hail back for the very beginning of the band, we had many names tossed back and forth and someone came up with Among Gods, a name which I find very solid and monumental.
Summon: Introduce the band members and what they do in the band. 
Lars: Right now AG is a duo of doom, ha, ha. Right now it's just me and Kenneth. We are trying out new musicians, and hopefully AG will be able to play some live shows soon, at least.
Summon: Who writes the music? Lyrics? 
Lars: I do the music and Kenneth do the lyrics.
Summon: And where do the lyric ideas come from?
Kenneth: The lyrics come from a place very deep inside my dark soul, ha, ha..no, the lyrics are based on little stories walking the dark and doomed path called life. Some twisted and strange things for sure, I just really hope that people out there can understand a little of my dark universe. I make the listeners make up their own idea what the lyrics about, they are included in the LP edition of our debut and will be included in both the CD and LP version of our new album «Monument».
Summon: What is your view in Satanism and Occultism?
Kenneth: None, what so ever!
Summon: How many albums/CD's have you released? 
Lars: The debut "Among Gods"
Summon: Tell me about some the songs on the latest CD?
Kenneth: I can tell you some secrets from our forthcoming album «Monument». We have a song called «V8» which is a real «in your face» song, catchy riffs and full forward death metal. «Summon Them Back» is another song which is a pure doom metal songs, really heavy and pure doom.
Summon: Do you have any side projects? 
Lars: I'm contributing on a new Vithr-album. Kenneth is a founding member of Syrach. Both bands are active.
Summon: Who are some of your musical influences? 
Lars: Black Sabbath and Tool, to mention a few. 
Kenneth: Iron Maiden, bands from the NWOBHM era and some of the early bands of the British Doom Metal scene, like the early releases of My Dying Bride, Anathema and Cathedral.
Summon: Which current bands? 
Lars: Opeth
Kenneth: Are there any good new bands? I seldom listen to new music but if you force me to put some names here it will be «new» bands like Novembers Doom and Primordial.
Summon: What is the band like when you play live? 
Lars: We are true to our music and we try to deliver the real spirit when performing live. Obviously it is a heavy experience. 
Summon: Have you guys ever played in another country?
Kenneth: I have been touring all over Europe several times with my band Syrach (est.1993), last time with Pentagram and Trouble on the «Doom Over Europe» tour. Hopefully I will take Among Gods touring in Europe as well and maybe some other continents.
Summon: How big of crowd shows up at shows usually? 
Lars: 50 to 100 people, I guess.
Summon: How is the crowd response when you play? 
Lars: It's been really good, considering the amount of people who have heard of the band.
Summon: What do you think of the US Black Metal/Death Metal scene?
Kenneth: I am not into BM, but there´s some good bands from US like mention before, Novembers Doom. Hopefully we get the chance to go to the US for some shows in the future. Just give us a call and we'll be there!
Summon: What do you think of the Overseas scenes?
Kenneth: Our eyes are on Europe I guess, but there are good bands all over really. Many of the good classic metal bands hails from the US and if we look to Japan and see a band like Church Of Misery, they are doing good in Europe over the last years. Great!
Summon: What are some of new favorite black metal/death metal bands? 
Lars: I don't spend much time checking out new bands in these categories. I'm spending a lot of time working on songs and also band rehearsals in both genres. To get "time off" I put on some old CD's or vinyl's from my collection, preferably alternative genres. 
Kenneth: I seldom listen to new bands and I almost just listen to vinyl, so I put on old classics, like King Diamond´s «Abigail», a masterpiece. I actually got the new Satan CD »Life Sentence» from a friend of mine, maybe I'll have a listen in my car..
Summon: When do you guys plan on writing any new material?
Kenneth: We have already started writing songs for our 3rd album so I guess all the songs will be ready this year, so we´re ahead of our schedule. We´re really excited about writing new songs now so I´m looking forward to see what comes out from the AG machine this time around.
Summon: What does the future hold for the band??
Kenneth: Only God knows ha, ha. No, we´ll release new albums and trying to tour when we have a stable line up. Hopefully we have the chance to go out on tour with some bands we like and have a good time, do a little rock´n´roll!!
Lars: The new album"Monument"will be finished in Mølla Lydstudio early February, and most likely released in May 2014 through PRC Music. Check it out!
Contact them at:
https://www.facebook.com/amonggods
Among Gods album: http://prcmusic.bandcamp.com/album/among-gods-among-gods-cd