Aktaion
Cancer
New Single
Independent
Future PR
Release Date: 17th February 2017
By: Pagan Hel
Aktaion – Halmstad, Sweden.
Links:
https://www.facebook.com/Aktaion
Genre: Melodic Death Metal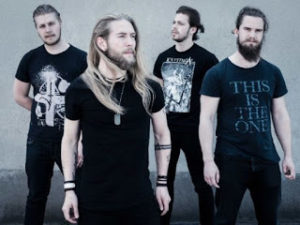 Biography:
"Aktaion sprung to life in 2015 with the release of their debut album Throne, the result of long-time collaborations between the members going back to 2010. The positive reception which came from reviewers and new fans led to the initiative to take Aktaion beyond its hold up in Halmstad, Sweden. Quite eager to release new material, Aktaion went into writing mode right away. Plans to record a shorter E.P in time grew into a full-length of eleven songs under the title The Parade of Nature!
After recording the second album Aktaion went out to tour the northern parts of Europe. In April, Aktaion travelled south and visited east Europe and the Balkans as part of the 'Blood Mantra Balkan Tour 2016' with Krysthla, Thy Disease, Hate and the legendary Decapitated. During the two-week tour, Aktaion visited and played a total of 13 cities in 9 countries, taking their own variation of Swedish melodic death metal with them. After the release of The Parade of Nature the band focused on writing new material and with the release of the new single 'Cancer', works are well underway for the next release, Aktaion is moving in a new and unexplored direction!"
~~~~~~~~~~
This track sounds far too perfect to be named after something so imperfect. The damming riffs are just colossal as the drum beats contagious. It rips into a throaty rasp from a clean vocal and literally sends goosebumps up my arms and down my spine. They are very poignant words "When the Cancer comes for you!" It is a very potent track that showcases the bands talents superbly!
It's clever that the band are not actually singing about Cancer, as we know it, but war, at least that's what I get from the video and we all know that war is another form cancer as it destroys lives just as the cancerous disease does.
The video is very revealing and cements the band's sound, creating a drama that incorporates Cancer as being a fight, which it is and cleverly executed by pictures and words that make the listener think.
Tenacious through the spiralling melodic fusions it develops its own character and embraces the provocative and toxic outcome that is thrust into the limelight.
A really gut-wrenching video!
9/10
Line-up:
Jonas Snäckmark – Vocals
Francis Larsson – Guitars
Axel Croné – Bass
Jonatan Ney – Guitars & Vocals
Oskar Johnsen Rydh – Live drums