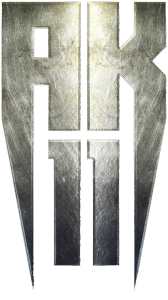 What began as a solo project by Valak in 2011 & the release of the 'Legendary, Demonic & Invincible' 6 track demo, AK-11 have become a reputable act in the underground Black Metal scene. Based in Melbourne (Australia), they perform their blend of triumphant, raw, pagan black metal at an unforgiving pace & style.
In March 2014, Valak (Vox, Bass), Morturus (drums), Davdarreth (guitars), entered Melbourne's Three Phase Studios, to record AK-11's debut 10 track album entitled- 'Once Upon A Time In Europa'. The band also managed to secure a deal with the legendary German artist Joachim Luetke, (who has designed artwork for bands such as Kreator & Arch Enemy) to create the logo & album cover. AK-11 then immediately embarked on their first European tour, with 'Live Assaults' in May, June 2014.
Upon returning returning to Melbourne, the group joined forces for local & international distribution of their Black Metal with Australia's pioneering label, Modern Invasion Music & a short time after, also with Infernal Devastation Records. After some rapid line-up changes- (Davdarreth was replaced by Amonroth on guitars & Murdoroth was added on bass guitar), the new 4 piece AK-11 'War Machine' set out on their first Australian tour between December 2014- early February 2015. Numerous Melbourne shows & Festivals in Adelaide & Brisbane, saw the band spreading their 'Propaganda' on home soil.
Currently AK-11 are conjuring up new songs of obliteration & drawing up battle plans for their second full length album & up-coming 'Live Attacks'. THE WAR CONTINUES…