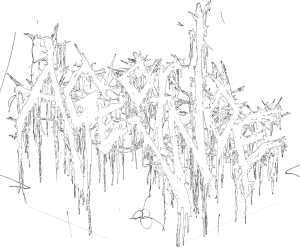 Age of Woe's debut album "Inhumanform" – out on May 31st, 2013.
Swedens Age of Woe are based in Gothenburg, Sweden and will soon release their new album; "Inhumanform" (Suicide Records / Give Praise Records). This is the follow up on the debut EP that was released in 2011 and which gained a lot of great reviews and appreciation from around the world. The full-length album "Inhumanform" was recorded live with Lennart Östlund from Polar Studios (Led Zeppelin, Candlemass etc) and Carlos Sepulveda (No Hawaii,Joe Baresi, Psycore etc). The recordings were then mastered by Brad Boatright over at AudioSiege (Sleep, High on Fire, Off!, Tragedy, From Ashes Rise etc).
Age Of Woe released the 1st single from "INHUMANFORM" named "AT FIRST LIGHT".via CVLT NATION and LUKINZINE last week. The track will appear on a compilation that will be released via ALL SYSTEMS GO,LUKINZINE and METALSUCKS.NET for free download. The band has made a DIY video to accompany the track consisting of footage from various news media around the globe.
This is what the band has to say about it: The video is a collection of footage from Europe and the middle east and show ordinary people fleeing from war. Wars they did not start and now they flee to the countries that have bombed them. They are the weakest in our society and yet there are forces in politics that say that they are the cause of all the problems in Europe. The
have no right to vote,healthcare,schools or even a roof over there heads. This video is to give a face to the faceless and voice to the voiceless.
No Borders, No Nations – Stop deportation
To record the album, the band retreated to the countryside outside of Bettna in Sweden and took refuge in an 18th century estate named Rosenhanska Magasinet. The music for this album was recorded live in 4 days and after that the band headed back home to Gothenburg to lay down the vocals andmixing at Belly of the Whale studio with Carlos Sepulveda behind the desk.
In a time when modern recording technology can make anyone sound like a star, Age of Woe decided to do the opposite. To be 5 musicians standing in a room playing music they like. That is what makes this record sound unlike and like nothing else on this earth.
Age of Woe have been touring Sweden, Denmark, Norway, Germany and Poland so far and will hit the roads again after the release to support "Inhumanform".
Contact: contact@ageofwoe.net
Press Contact: info@suiciderecords.com
At First Light video:
http://www.youtube.com/watch?v=7l1ZdW9Y-vs
http://www.suiciderecords.se
http://givepraiserecords.com
http://ageofwoe.net
http://www.facebook.com/ageofwoe
Age of Woe – Inhumanform CD/LP/DIGITAL
(Suicide Records // Give Praise Records)
1. Like Embers
2. The King of Thieves
3. The Antagonist
4. Black Rain
5. At First Light
6. Red Eyes
7. Cold Cycle
8. A Rite of Passage