Afgrund
"Corporatocracy"
2013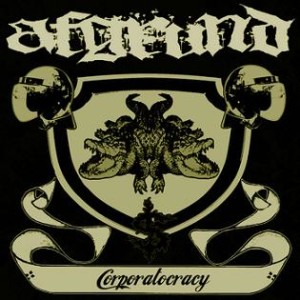 Corporatocracy is listed as and EP but has 11 tracks. So Afgrund may be a bit of over achievers considering the last album The Age Of Dumb has 18 songs. Corporatocracy is a noticeably cleaner album than TAOD. The production is more polished and the guitars have moved a but more mainstream in their tones. It sounds a bit more commercial with the addition of slower moments as compared to TAOD. The lyrical angst or disgust appears to still be present and the vocals are just as hostile. Whether production or time Armin's vocals seem even stronger than before. This really shows on Shadows, which is a Nasum cover. While not as bitey with the highs, still has powerful proficiency. 
Afrgrund has progressed musically but they always show a diversity of influence. Splattered Cadavers reminds me of System of a Down if they went psychotic (er). Satanic Saliva has a Death Metal punch but catchy at the same time.

Corporatocracy  in my opinion is a great introduction, albeit their latest effort, to the band. I RECOMMEND giving this one a listen and a BUY.
Tracklist:
1. Corporatocracy
2. Earthrape
3. Pact of Perfection
4. Common Goals
5. Dog Days
6. Scarred Forever
7. Pharmageddon
8. Satanic Sativa
9. Splattered Cadavers (Repulsion cover)
10. Shadows (Nasum cover)
11. The Nightmare Continues (Discharge cover)
https://www.facebook.com/pages/AFGRUND/96791221715


Members:
Armin Schweiger – Vocals
Olli Nokkala – Guitars
Enrico Marchiori – Bass/Vocals
Patrik Fält – Drums
Rating 8 out or 10
~Alaric Hannibal Barca
Afgrund
"The Age Of Dumb"
2012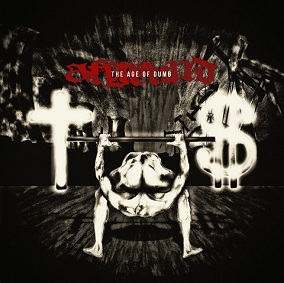 There is a rhythm, a drive or riff for everyone that likes their music heavy as shit. This is a raw sound assault on the senses. I would best describe it as the soundtrack of turning road rage into multiple homicides. Others may simply call this grindcore. I would ballpark these bad boys between Napalm Death and Nasum without hitting the highs vocally of the latter band. 
It appears lyrically that the band has something against all the world's plethora   complications. Which should probably keep them inspired to write songs of this sort for years, maybe decades to come. There are 18 tracks on the album and they are not one minute blasts so be prepared to dig in. 
There is an infectious energy to this band that after repeated listening began to grow on me. I hand it to them on musicianship and tirelessness on the assault.
Tracklist:
1. Life and Death of a Broiler
2. Living the Nightmare
3. The Might of a Nation
4. H.A.P.P.Y.
5. Beaurocrap
6. Carniwars
7. Genocide to Glorify
8. Repaint the Truth
9. An Aggregation of Misfortune
10. Discorporate
11. The War on Drugs
12. Planet Monsanto
13. Le Grand Illusion
14. Nuclear Hazzard
15. Life Banned
16. Bullets Are Forever
17. He Who Plants Sorrow
18. The Carrier
https://www.facebook.com/pages/AFGRUND/96791221715


Members:
Armin Schweiger – Vocals
Olli Nokkala – Guitars
Enrico Marchiori – Bass/Vocals
Patrik Fält – Drums
Rating 7 out of 10
~Alaric Hannibal Barca