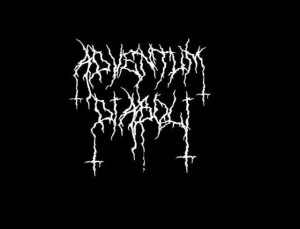 Adventum Diaboli
"Rise of the Pagans"
2013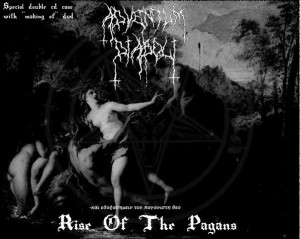 Adventum Diaboli is back with a brand new 2013 full-length album titled Rise of the Pagans. Adventum Diaboli is a black metal band from Greece that keeps its roots in low fidelity, pagan black metal. Keeping black metal firmly based in the dark ancestry of those that came before, like Hell Hammer, Rise of the Pagans is not a perfect experience, but it has moments of pure brilliance. For the most part, this is a raw and primal sounding record that sounds like it was recorded on a budget of about ten dollars. Like their previous release, it works for this band because they know how to work with a low sound quality. Adding much in the way of atmospheric elements that lift the album as a whole. This time around, the guitar tends to be loudest in the mix. But the strength of Rise of the Pagans is not in the blasting guitar riffs and drumming it is in the atmosphere. This three-piece band has crafted an album that flows when the band lets the atmospheric moments rise. At first, as Rise of the Pagans plays very much like a record with little to no purpose, outside of making a little metal to show how wicked Adventum Diaboli are. The first song, titled Transilvannian Wind starts us off with a haunting melody setting a grim tone for what is to come. The record then dissolves into fairly standard, dark black metal, with the guitar serving as the loudest and most interesting aspect. As the first few songs play, Rise of the Pagans seems content with simply ripping itself off. There is not much variety until about half way through. Then all of a sudden the album takes a left turn and the chilling atmosphere rises. Songs become a lot more interesting. Singer Charon becomes angry. Songs become far more structured. The tone changes and Rise of the Pagans becomes greater than when it started. This is obviously Adventum Diaboli's true strength as a group and I wish this were spread throughout the entire record. As it stands this is a good album with an amazing second half that lifts the whole album and makes it better than the sum of its parts.
Tracklist:
1. Transilvanian Winds
2. Rest in Hades
3. Rise of the Pagans
4. Medieval Pagan Rites
5. Idewn Anthron
6. Vakrhus
7. Eis Arews Doksa
8. Paina Before the Battle
http://adventumdiaboliofficial.webs.com
https://www.facebook.com/Adventum-Diaboli-440994009275035/
Members:
Charon – Vocals
Panas – Drums
Leviathan – Guitars/Vocals/Guitars/Bass
Rating: 7.5 out of 10
~Kris
Adventum Diaboli
"Luciferium"
2013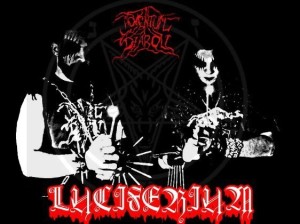 Adventum Diaboli is here to take you back. Way back to a time when black metal was a simple art form that reflected the despair in its creators. 2013's "Luciferium" is this Greek band's second full-length album. This is a great fuzzy guitar black metal album with only a few stumbles along the way. Starting off appropriately with a song called "Burn the Church", Luciferium then takes you down a dark path that has not been traveled since the genre was in its infancy. This is a very primal and primitive sounding black metal album. It has a very primordial sound to the recording and mix, but it works here. This is a type of black metal that hasn't been done well since the early days of Mayhem and Burzum. Lead singer Charon gives us a very raw yet controlled performance. He works well with the songs and isn't there to simply scream like a maniac. He is the loudest in the mix, but is never overbearing. He is fairly one note but can switch his style from straight black metal deep rasp to raspy sounds of a man dying. He and guitar player Leviathan play well off of each other. Most aspects of the music are downplayed a bit which works to bring forth the thick, dark black metal atmosphere that hangs heavy as you listen to Luciferium. The only parts that hold this album back are a few out of place very loud keyboards moments that are more distractions than benefits. And there is not much in the way of variety of originality on Luciferium. It doesn't feel as though you are just hearing the same song over and over, but the final song titled Mephisto's Heart shows that Adventum Diaboli has more tricks than they have shown off. Luciferium is a great, savage black metal album that is a modern throwback. It might not be for everyone, but if raw, primal is your thing than give Luciferium a listen.
Tracklist:
1. Burn the Church
2. Regenerationis Diaboli
3. Right Hand (of the Anti-god)
4. 2th Legion
5. Goat of Mendes
6. Bestial Flame
7. Black Holocaust
8. Mephistos Heart
http://adventumdiaboliofficial.webs.com
https://www.facebook.com/Adventum-Diaboli-440994009275035/
Members:
Charon – Vocals
Panas – Drums
Leviathan – Guitars/Vocals/Bass
Rating: 8 out of 10
~Kris