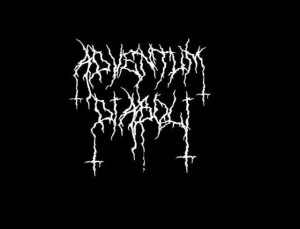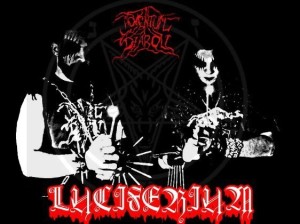 Summon: How did the band get started?
Leviathan: First Thanks A Lot For The Interview And The Opportunity. The Band Started In Early 2012, By Leviathan And Mephisto with purpose to spread to our town the sound of Black Metal. Later Panas Joined the Band as a drummer. Very Soon We Started To Write Our Songs For The First Full Album "Lies Of The Priest". The Album Released Soon And Then We Started The Records For The Second Album Luciferium.
Summon: What kind of music do you play?
Leviathan: Adventum Diaboli Plays A Form Of Old School Black Metal With Ambient, Melodic, And Depressive Elements. In the Third Album we Will Add A Flute To Some Songs To Emphasize The Greek Pagan Element As The Album Is Dedicated To Ancient Greek Paganism Culture. Of course the general genre is Black fucking Metal \m/
Summon: How has the fan response been?
Leviathan: Well In Our City We Have A very Good Response by the fans. However we have also suffered In The Past A Form Of "Musical Racism" Because People Here are Close Minded And They Can't Understand What Black Metal Represents, They Think Its All About Church Burnings, Murders, And This Crap. Now We Have A Very Good Response From Fans Here In Greece And From Other Countries That Respect And Support The Band. We Try To Do The Best We Can. We Are really Dedicated To Black Metal.
Summon: Where did the band name come from?
Leviathan: The Band Name Adventum Diaboli Comes From The "Arrival Of Satan" In Latin. The Name Was Found By Leviathan (Guitars). Represents The Changes That Is Going To Happened In This Little Community Of Volos.
Summon: Introduce the band members and what they do in the band.
Leviathan: Well. The Band Members Are Leviathan who Plays Guitar, Bass, Writes Music And Is In Charge About Recordings, Mixing, Edit And Releases. Panas Is The Drummer, He Also Writes lyrics. Apart from us there is Charon who does the Studio vocals.
Summon: Who writes the music? Lyrics?
Panas: As we mentioned above music is written by Leviathan and lyrics both by Leviathan and Panas. Some lyrics and music from our first albums were written by our ex-member Mephisto.
Summon: And where do the lyric ideas come from?
Panas: Usually lyrics come from anti-Christianic ideas related to some blameworthy deeds of priests and Christians, i.e. they don't follow exactly the directions of Christianity. Other lyrics are related with ancient Greek tradition, Paganism, Satanism, Occultism and Spiritualism and the rational meaning of all these.
Summon: What is your view in Satanism and Occultism?
Leviathan: My View Of Satanism Is Only about Freedom And A Free Will To Do Whatever We Want Against The Corrupting World And Christianity. I Don't consider Myself As A Satanist But As A Free Man With A Mind Of His Own And Not A "Sheep". Anyway I Support This Ideology Many Years. Occultism I Think Is A "Dark Path" Of Knowledge, A "Dark Art" It Inspires Me To Write Dark Riffs And Lyrics.
Summon: How many albums/CD's have you released?
Leviathan: So Far We have Released 2 Full Albums "LIES OF THE PRIEST" And "LUCIFERIUM". A Demo "AND MAY THE GOAT LEAD US", A Split Album With The Band Darkehl, And Now We Are About To Release Our Third Full Length RISE OF THE PAGANS. In the Future There Is A Rehearsal Album "BIG MISTAKE TO BREAK THE 7TH SEAL" Also A Company Had Re-released Luciferium In Tape.
Summon: Tell me about some the songs on the latest CD?
Panas: Alright our latest album that will be officially released in two weeks is Rise of the Pagans. Some of my favorite tracks of it are Rest in Hades, Transilvanian wind and Rise of the Pagans. The first talks about the ancient tradition of the Underworld and how the souls of the corpses are leaded to Hades. The second describes the Mountains of Transilvania and the ferocious creature that lived there Dracula, while the third is a hymn to the Pagans, a hymn to their reborn. The music of of these tracks has some epic synths and keeps its power.
Summon: Do you have any side projects?
Leviathan: Panas Was The Drummer Of A Thrash Band "ΙΧΩΡ ΘΡΕΩΝΤΑΙ". Now We Don't Have Any Side Project We Are Fully Dedicated To Adventum Diaboli And True Black Metal.
Summon: Who are some of your musical influences?
Panas: Of course the fathers of Norwegian Black Metal (the first waves) such as Darkthrone, Burzum, Mayhem, Immortal, Satyricon, Gorgoroth. Then other black metal bands like Venom and Celtic Frost, Dark funeral, Xasthur, Urgehal, Thy light, Thy Antichrist and Nargaroth.
Summon: Which current bands?
Panas: If you mean bands of these years then Unholy ritual, a very powerful Greek Black Metal band and Rotting Christ with their epic and brutal music.
Summon: What is the band like when you play live?
Panas: Unfortunately, we haven't done a live show till now as our band life is short. However, we give a major importance to the stage performance and we believe that ours should have brutal effects and macabre decoration including corpse paint such us God Seed, Mayhem and Carpathian Forest.
Summon: Have you guys ever played in another country?
Panas: No we haven't played as we highlighted but we would like that so much!
Summon: How big of crowd shows up at shows usually?
Panas: We haven't seen that yet. To tell the truth we are a bit pessimistic about that cause there are not a lot of fans of Old School black metal in our country.
Summon: How is the crowd response when you play?
Panas: ———-We don't have a mere fucking clue!
Summon: What do you think of the US Black Metal/Death Metal scene?
Panas: Generally there are a lot of black metal bands from US with important albums such as Judas Iscariot; they still keep the low sound quality of Norwegians and have some really blasphemic lyrics that we like and stood influences for us. About death metal we like more brutal death or blackened death or even grindcore, like Cannibal Corpse, Obituary, Behemoth, Terrorizer and Napalm death; we love their full of brutality and blood lyrics and extreme music!
Summon: What do you think of the Overseas scenes?
Panas: We like very much the Japanese black metal band Sigh, their music is totally impossible!!! Holy shit!
Summon: What are some of new favorite black metal/death metal bands?
Panas: Although we prefer old school brutal music without perfect quality for ex. Technical death, I personally like Decapitated and the work of their drummer. I also listened to Valdur once and I liked it.
Summon: When do you guys plan on writing any new material?
Panas: Now we are about to release our third album Rise of the pagans and we already started to take down some new riffs and lyrical ideas! Our fourth album will probably be released the coming summer and we believe that will be one of our greatest!!! Be patient metal-heads! \m/
Summon: What does the future hold for the band??
Panas & Leviathan: Of course a lot of work for the upcoming albums (third and fourth), maybe some changes in our basic line-up and we hope many many live shows to get as closest to our respective fans!
Thanks a lot for the interview!!! Keep the black metal fire alive. Adventum Diaboli.
Contact them at:
https://www.facebook.com/pages/Adventum-Diaboli/440994009275035
http://www.reverbnation.com/adventumdiaboli
http://adventumdiaboli.bandcamp.com/
https://twitter.com/AdventumDiaboli