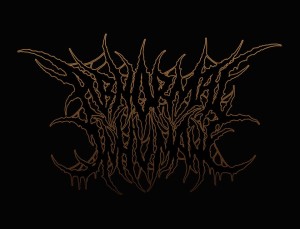 Abnormal Inhumane
"Promo 2014"
2014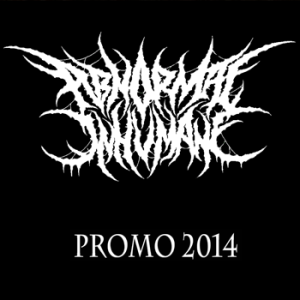 Abnormal Inhumane is a Brutal Death Metal band hailing from Athens, Greece. The band has been together since 201o. In which they have released a few albums. 2011 was there full length album in which this zine has reviewed as well. They also have put out a single and split. This is there 2014 Demo which is titled "Promo 2014".
This demo only has two songs on it. However they are both very powerful and brutal songs. The vocals of Kostas PSD are awesome in that low guttural sounding. Makes you wanna just start banging your head. The guitar work from Stelios and Bassist Kostas are both very fast and blend in so perfectly you wish you were up there playing with them if your were a musician. And the drum beat from Jim is not very over pounding but has a definite great sound. If you are fan of Brutal Death Metal you will definitely want to check this band. I cannot wait to hear a new full length from this brutal Greek Metal band.
Tracklist:
1. Into Criminal Frenzy
2. Cosmogonic Derangement
https://www.facebook.com/abnormalinhumanedeathmetal
Members:
Kostas – Bass
Jim – Drums
Stelios – Guitars
Kostas PSD – Vocals
Rating: 10 out of 10
~Damon
Abnormal Inhumane
"Disgusting Cruelty of Homicide"
2011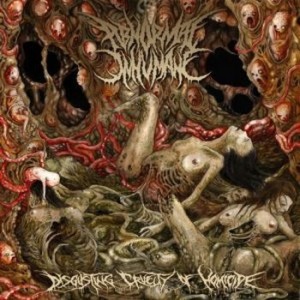 These guys hail from Greece. They kind of remind me of a less technical Decapitated. This album is brutal as fuck actually. . I REALLY like the songs "Murder" and "Insolent Compulation" There are some very heavy riffs in this album. The drumming is superb. "Mitch", according to the metal-archives is an extremely badass drummer. Sadly, there are some super boring riffs in this album as well. Some of it starts to get pretty repetitive, but only with the boring riffs! The cool ones always seem to be short-lived for some reason. However, this album is much better than I expected. It is a pretty good effort. I just wish they could have spent more time on some of the songs, as far as arrangement.
Tracklist:
1. Intro
2. Defiance of Species
3. Murder
4. Repulsive Disease
5. Vehement Banishment
6. Creation of Abysmal Authority
7. Carnal Pleasure of Abnormal Derangement
8. Insolent Compulation
9. Supremacy Decay and Dominance Impurity
10. Humanization Mechanized
11. Final Chapter of Inhumanity
https://www.facebook.com/abnormalinhumanedeathmetal
Members:
Kostas – Bass
Tasos (RIP) – Vocals
K – Guitars
Rating: 7 out of 10
~Ravenshike