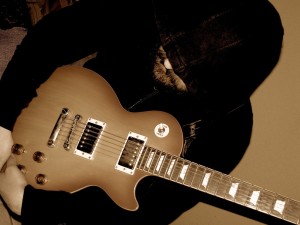 Summon: How did the band get started?
Fabrizio: This is a project started in 2011 after a long time of musical hiatus for me, Fabrizio "A2aThoT". I started a project with only one thing in mind: to play the music I like, with no limits and no problems at all. So I decided to be alone in this, without anyone to tell me what to do or how to do it. In 2012 I finished the recordings of enough songs to release my first record "A2aThoT", but now I see it as a very confusing album, not really something I would do now (apart from some songs).

Summon: What kind of music do you play?
Fabrizio: After the release of my first album, in the late summer of 2012, I started new recordings with a new project in mind, something that wanted to be a very psychedelic, yet obscure form of metal. I think that Doom Metal is the closest thing to my style. Still, it's very influenced by some rock sounds like Pink Floyd, or Jane's Addiction, or Radiohead.

Summon: How has the fan response been?
Fabrizio: The new EP "Trust Your Ear" has received very good reviews in my opinion. I really like that so many people found in my music what I wanted to express, that's the most important thing for me.

Summon: Where did the band name come from?
Fabrizio: The name Azathot (actually is "Azathoth") is taken from H.P. Lovercraft (of course), but I wanted it to be less "classic metal" and more "electronic/experimental"… I mean, with the number 2 instead of the Z, and the different letters, it's very 2000s, like a nickname for a chat, or a DJ name! I like that dualism, but still someone in my past approached me as "A-two-A-thot" 😀

Summon: Introduce the band members and what they do in the band.
Fabrizio: I do everything, being a one-man-band… So I play every instrument, program the samples, record/engineer/produce everything. I try to sing my song too, and sometime I think I do a good job in some part!

Summon: Who writes the music? Lyrics?
Fabrizio: I write everything, music and lyrics. Music usually comes first, and I have many old lyrics scattered in my hard-disk that sometimes I find very good even if they're 10 years old (or more) and I use them. Or, I write something new.

Summon: And where do the lyric ideas come from?
Fabrizio: The lyrics are usually about love (not the romantic love, in a classical view, but more in a very gloomy vision of love), or madness, or rage. I think madness is a very interesting theme, because there is no "normality" for me. Who can be really normal? What is normal and what is insane?

Summon: What is your view in Satanism and Occultism?
Fabrizio: I'm quite fascinated in occultism, even if I'm an Atheist and I'm totally against any religious imposition. Occultism for me can be found everywhere, and I really like to read about mysteries, weird creatures and animals, and mythology. One of the songs from "Trust Your Ear", it's about Wiccan cult and Witches, it's called "So Pure, Everything Leaves Life". Of course, if you look closely, it's easy to find the hidden meaning in that title.

Summon: How many albums/CD's have you released?
Fabrizio: I released my first album "A2aThoT" in August 2012, and this new EP "Trust Your Ear" in March 2013. I think I will not release anything new for sometime, because I really want to work on something new, new style and new sounds.

Summon: Tell me about some the songs on the latest CD?
Fabrizio: The songs are for me very representative of what I am and what is A2aThoT. "Delirium…" is a very dark, noisy song that introduces you into the nightmare that is my music. I try to take you away into a dark world, where all your fears will make you go mad. "So Pure…" is a very strong song, about how we can get strength and power from nature, just like the witches did. "Andromeda…" seems to be a love song. I think that's easy to say that, but probably a love song by A2aThoT is not like a love song by… I don't know… The Beatles. That's because there is nothing sane in my view of love. Love is some kind of disease (not in a bad way), something that changes you without you even realizing it.
I tried to do a record that would not be considered in only one genre. I think you can find Doom Metal, Drone, Stoner, some Dark/Gothic lyrics, even some Electronic and Post Rock sounds and structures. If you listen very carefully, you could even find some genres I don't even listen to!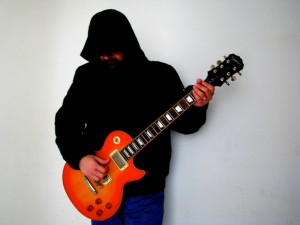 Summon: Do you have any side projects?
Fabrizio: No. A2aThoT is my only music project. That's all I need.

Summon: Who are some of your musical influences?
Fabrizio: There is a lot of influences I could say… I started playing guitar when I listened to Queen so I loved Brian May. Now I really like guitar players like David Gilmour, Dave Navarro, Dino Cazares, Tony Iommi… About bass playing, I play it in a very "guitar-ish" way, so probably my only bass influences are from guitar players' style. About singing, I really like Serj Tankian, Vincent Cavanagh, Dave Gahan, Marilyn Manson, Ian Curtis… I'm sure I'm leaving someone out of this list, I can't remember them all!

Summon: Which current bands?
Fabrizio: I always like to say Anathema, Sunn O))), Pink Floyd, Black Sabbath, Radiohead, Jane's Addiction, System Of A Down, Neurosis, Ufomammut, Cathedral, Isis, Russian Circles, Queens Of The Stone Age, Pentagram, Opeth… that's what I usually think people could find similarities with my sound, but I also listen to many other things like Type O Negative, Depeche Mode, Burzum, Bathory, The Gossip, Bloc Party, Fear Factory, Rammstein, Rage Against The Machine, Earth, Boris, Deftones, Korn, Queen, Marilyn Manson, Dredg, Editors… So I think there's a lot going on in my head with all these different bands!

Summon: What is the band like when you play live?
Fabrizio: I don't do live shows at the moment, I hope to be able to do something as soon as possible.

Summon: What do you think of the US Black Metal/Death Metal scene?
Fabrizio: I'm not very familiar with US metal scene (in general), but I really like that US metal and European metal are so different, because in this way, everyone will find something to listen to!

Summon: What do you think of the Overseas scenes?
Fabrizio: European metal scene is very active, Metal is always something not very supported by media, so it's not "fake" like pop music. I love to see a metal festival with as many people as in a Lady Gaga show! Fuck it, that means we don't need MTV to tell us what to listen to! Metal is not something you listen to because it's a fashion, you FEEL it!

Summon: What are some of new favorite black metal/death metal bands?
Fabrizio: I like old bands, I'm very old in my musical tastes 🙂 Lately I discovered Gojira (they're quite new, right?) and I really like them! But I keep on going back to my old favorite albums from the good old days!
Summon: When do you guys plan on writing any new material?
Fabrizio: I hope after this summer I will be able to star writing and recording new stuff. Finger crossed.
Summon: What does the future hold for the band??
Fabrizio: I hope to find a way to reach as many people as possible, so that I will be able to give my music to everyone and see what they think about it. I also hope that soon I will be able to play live in as many country as possible, to share A2aThoT music!
Keep it metal!

Contact them at: