1349
"Massive Cauldron of Chaos"
2014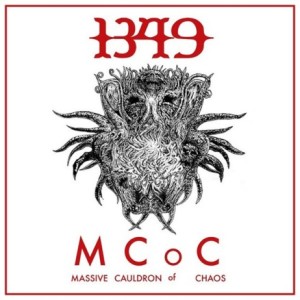 1349's album, "Massive Cauldron of Chaos" is a good example of a Norwegian band that still makes good albums. Good vocals, good guitars, good drums, all of which I have come to expect out of these guys.  I'll cut to the chase and just tell you that this album is very good and also thought out, not shat out, like some bands tend to do nowadays.  I have listened to the album in full and I cannot think of a bad song, if that tells you anything.

This is a good one, folks.  I could say this album has some what one could even call "Epic" moments which have a very "Norwegian" sound if this makes sense to any of our readers. The overall production is also very good, especially for the style of this band. This is a mighty release for 1349. The vocals of Ravn, in a sense,  carry the pace of the album as a whole, but it is hard to not recognize the fluidity of all of the instrumentation as well.

On to the instrumentation… The guitar tones(and riffs!) are very pleasing to the ears… Frost's drums are top notch as usual.  This is a full properly flowing black metal album with no boring shit attached.

Highlights on this album are "Godslayer", "Postmortem", "Exorcism", "Chains", and "Slaves". These guys aren't playing around, and you can hear that clearly. I wish the album was longer. One of the best releases of 2014 for me.


Tracklist:
1. Cauldron
2. Slaves
3. Exorcism
4. Postmortem
5. Mengele's
6. Golem
7. Chained
8. Godslayer
https://www.facebook.com/1349official
Members:
Seidemann – Bass
Ravn – Vocals
Archaon – Guitars
Frost – Drums

Rating: 10 out of 10
~Cosmic Cornmeal